Home | Trestle Board | Lodge Directory | FAQ's | Links | Committees | District Project | Officers | Past DDGM's
Ontario District Project 2021 - 2022

For his 2021-2022 Masonic year, District Deputy Grand Master, R.W. Bro. Glenn Carr, has again selected the Ontario District Project No. ???? to be in support of the Wounded Warriors Canada with a goal of raising funds towards this project. Cheques should be made payable to - "Ontario District A.F. & A.M." and note "Ontario District Project No. ????" in the comment line.
Ontario District Calendar 2021 - 2022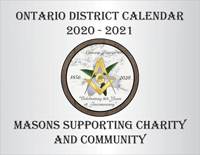 The Ontario District Calendar will be available from our Ontario District Calendar Chairman W. Bro. John Dean. A PDF of the calendar may be purchased by the Lodge for $50.00 for their members. Separate individual donations will also be accepted towards the Ontario District Project. We are not printing physical calendars this year unless we have an order for 100 calendars (total from all Lodges). It includes all of the dates listed in the Ontario District Trestleboard. All profits made will be donated to our Ontario District Project No. ????. The calendar was designed by W. Bro. Joe Johnson. The Ontario District Emblem was redesigned by W. Bro. Joe Johnson for our 165th Anniversary of Ontario District in 202.
Home | Trestle Board | Lodge Directory | FAQ's | Links | Committees | District Project | Officers | Past DDGM's

Privacy/Terms of Use
Copyright © 2005-2021 Ontario District Freemasons
Last updated September 19, 2021