Home | Trestle Board | Lodge Directory | FAQ's | Links | Committees | District Project | Officers | Past DDGM's
Ontario District Project Gala 2019
Black Tie Evening
Supporting the Ontario District Project
This year, District Deputy Grand Master, R.W. Bro. Kevin Wilson's District Project No. 2644 will be to raise $15,000.00 in funds to be in support of Wounded Warriors Canada.
In order to help support this cause, a Black Tie Evening has been planned for Saturday, March 30, 2019. It will take place at the Newcastle Community Hall, Newcastle, Ontario.
Ontario District Project Gala - Black Tie Evening
Date
Saturday, March 30, 2019
Cost
$125 Per Couple ($65.00 Per Person)
Attire
Tuxedo / Dark Business Suit
Place
Newcastle Community Hall, 20 King Avenue West,
Newcastle, ON (see map below)
Social Hour/Hors d'oeuvres
6:00 P.M. - 7:00 P.M.
Dinner
7:00 P.M.
Dance
8:30 P.M. - 1:30 A.M.
Dinner Music - Dancing - Great Gifts
Bucket Draws for Great Prizes
Tickets are available from Masters in the District or the Ontario District Special Events Chairmen.
All profits go to support the Ontario District Project.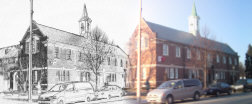 Directions to Newcastle Community Hall:

The Newcastle Village Community Hall is at 20 King Avenue West in Newcastle, Ontario, Canada on the north-west corner of Mill and King Street (Hwy 2). From Toronto, take highway 401 East to Mill Street (exit 440) in Newcastle. The Mill Street exit is just two minutes east of Hwy 35. On Mill Street, drive north about 2 kilometers to King Street (Hwy 2).
Home | Trestle Board | Lodge Directory | FAQ's | Links | Committees | District Project | Officers | Past DDGM's

Privacy/Terms of Use
Copyright © 2005-2019 Ontario District Freemasons
Last updated Saturday, April 27, 2019